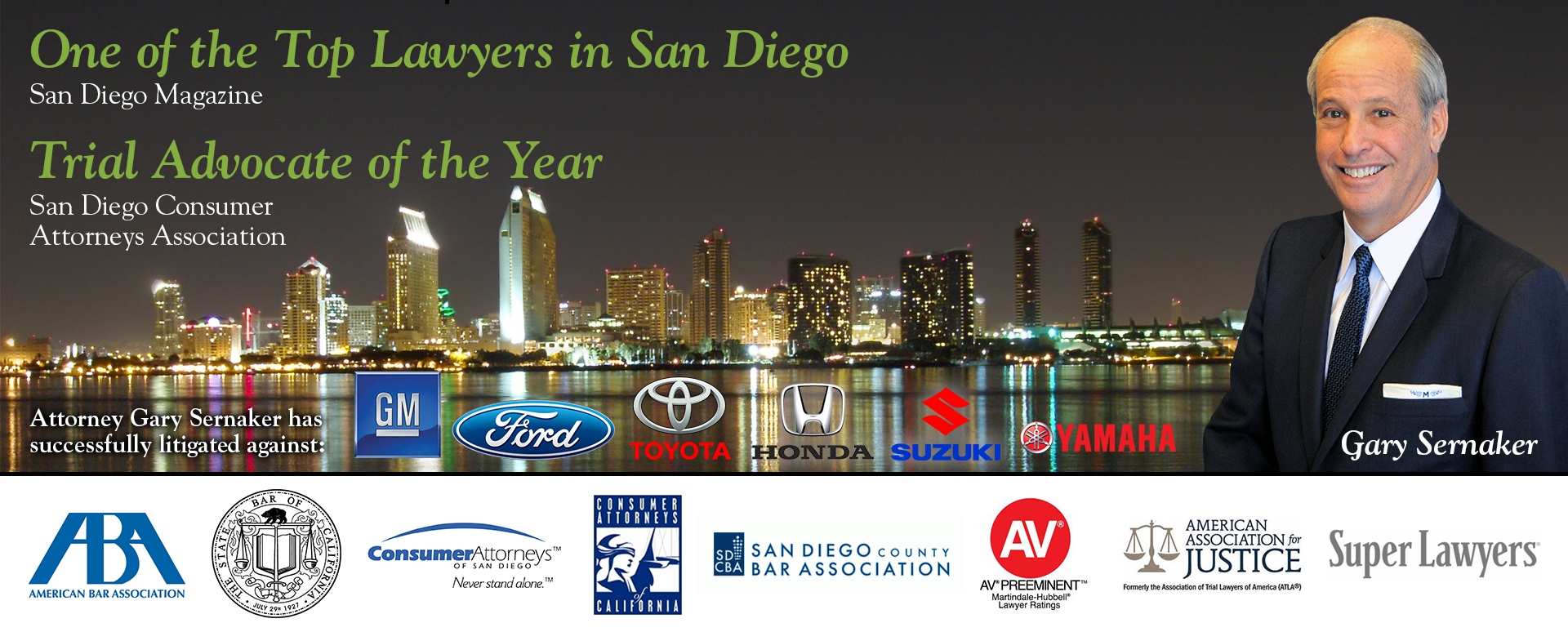 What you should do after an accident
Automobile and other accidents in the San Diego area can leave their victims with serious physical injury, mounting long-term medical expenses, loss of income, and significant pain and suffering. Often those involved in an accident are not aware of the steps they should take or when they should take them.
At the scene of the accident
San Diego automobile accident lawyer Gary A. Sernaker encourages accident victims to take the following actions at the scene of the accident:
Collect information from the other driver, including name, address, phone number, vehicle make and model, license plate number and insurance information
Identify any eyewitnesses and collect information from them
Take photos, with a cell phone if necessary, of the accident scene
Wait for the police to arrive
Record the police officer's name, badge number and contact information
Do not accept any fault for the accident
Make note of any video surveillance cameras in the area, especially if your accident occurred at an intersection or in a supermarket, store, shopping mall or parking lot
Immediately after the accident
If you've been involved in a San Diego automobile or other accident, you're well aware of the confusion and anxiety that often follow. Still, you should take the following steps:
Seek medical treatment and keep copies of all bills and reports
Notify your insurance company
Contact a qualified injury attorney
Keep all damaged personal property
Keep records of damages and expenses
Record your recollection of the accident and be as detailed as possible
Experience. Preparation. Results.
San Diego auto accident attorney Gary Sernaker has earned the prestigious designation, AV® Preeminent™ Peer Review RatedSM by Martindale-Hubbell®, for his legal abilities and adherence to ethical standards. He was the sole recipient of the 2009 Trial Advocate of the Year by the Consumer Attorneys of San Diego.
There is no substitute for experience. And experience builds the foundation for extensive preparation, anticipation of the opposition and refusing to accept no for an answer. That's why our injury law firm gets results.
Call Gary A. Sernaker, A Professional Law Corporation, today at 858.509.0188 or contact us online to learn if you have a case. We're happy to meet with you at our Solana Beach office or at your home or hospital. Se habla español.